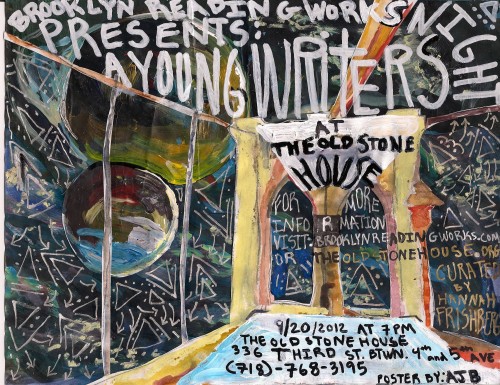 Brooklyn Reading Works is pleased to present YOUNG WRITERS NIGHT at the Old Stone House (a Brooklyn Book Festival Bookend Event).
Come one and all to this celebration of fiction, poetry and song by teenage writers curated by Hannah Frishberg (a senior at Bard High School Early College). The event will be introduced by Brooklyn Poet Laureate Tina Chang. An editor from One Teen Story will be on hand to distribute FREE copies of the first issue of One Teen Story
The Brooklyn Book Festival (on Sunday, September 23rd outside at Brooklyn Borough Hall) is the largest free literary event in New York City, presenting an array of national and international literary stars and emerging authors, readings and a lively literary marketplace.
YOUNG WRITERS NIGHT:  Thursday, September 20th at 7PM at The Old Stone House, 336 Third Street in Park Slope ( between 4th and 5th Avenues).
For information: 718-288-4290 or 718-768-9135 or [email protected]